Do you need a strong fastener to join your metal or textil parts ?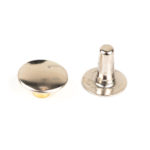 Single brass tubular rivet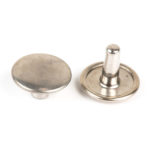 Double brass tubular rivet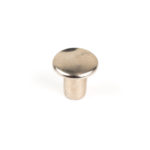 Nickel plated steel self-piercing rivet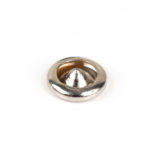 Washer & cap
With application areas as varied as industry, truck bodywork, leather goods, orthopaedics, clothing or cardboard, we offer a wide range of rivets available in various sizes and finishes.
Types of rivets :
Single cap tubular rivets and double cap tubular rivets are used for joining parts together by riveting.
In the cardboard industry and for the production of ring binders for example, unic rivets (also known as self-piercing rivets) are essential for attaching the ring mechanism to the binder. Self-piercing rivets are available in nickel plated brass, bronze plated brass and nickel plated steel.
Our rivets give a strong and durable join, and they have an eye-catching in shape, giving them a neat appearance wherever they are placed.
Finishes :
Our tubular rivets are available in yellow brass, nickel plated brass or military bronze plated brass. We can also supply them in nickel free on request. Do not hesitate to contact our sales team !
Our rivets can be easily attached with a hand press and the appropriate tool.
Our self-piercing rivets are available in a bright, refined nickel steel finish for a decorative look.
Sizes :
Rivets are available in different sizes to suit different material thicknesses. Rivets are differentiated by the diameter of the head and the length of the tube. The longer the tube, the thicker the material to be riveted can be (such as leather for example).
Attaching machines :
As a manufacturer of setting machines and tools, we are able to advise you on the best possible setting solution.
Rivets of all sizes can be attached with our 2500 and 5100 presses. For larger productions, our sales team will be happy to discuss with you the possibility of an automated setting system.
If you are a professional, please consult our catalogue for the different dimensions and finishes.
If you are a private individual, please visit our online shop. 
If you are a professional, please consult our catalogue for the different dimensions and finishes.