Eyelets and grommets in various finishes and sizes for a wide range of sectors.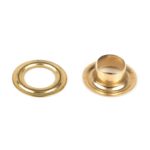 Standard eyelet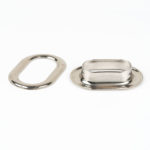 Oval eyelet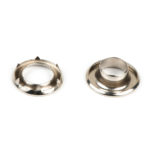 Rolled rim grommet with spur washer 
Expedit has always produced a wide variety of eyelets that can be used in various application areas:
Tarpaulins, truck bodies, cardboard industry, advertising, sign and banners, sails and boat industry, upholstery and curtains, camping accessories, marquees and tents, swimming pool covers, textile structures, awnings, sun protection, clothing, leather goods etc.
Our standard round eyelets will meet the majority of your needs.
Our oval eyelets are used with small turn buttons or TIR turnable staples, as well as half-round or rectangular staples among others.
Our star-shaped eyelets are perfet for leatherworks. They can be used in shoe repair shops or saddleries.
The eyelet can be coupled with the washer of your choice depending on the desired use: flat or neck washer for automatic eyeletting machines.
Finishes :
Standard brass eyelets are available in different finishes :
– polished yellow brass
– nickel plated brass
– military bronze

Not forgetting 316 stainless steel, perfect to withstand extreme conditions, or zinc-plated steel, wich provides a shiny finish.

In addition, we offer a wide range of finishes for all our curtain eyelets (diameters 25 mm, 30 mm, 32 mm, 40 mm, 50 mm et 66 mm) :
– polished brass
– matt brass
– shiny nickel
– matt nickel
– gun metal
– antique brass
– antique sopper
Dimensions :
Internal diameter : from 4.7 mm to 66 mm depending on the model
External diameter : from 8.5 to 95 mm
Height : from 4 to 13 mm
If you are an individual, please consult our eyelets on our Darrigol & Gagnez website.